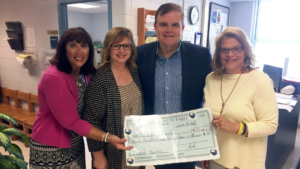 Kids have a way of giving us grown-ups a glimpse of Jesus' heart in the most unexpected ways.
The past couple weeks, Sinclair Elementary School's first grade students have been learning about producers and consumers. As a way to apply what they've been learning, they had the (brilliant) idea of opening up a homemade lemonade stand for their school Field Day. So on June 9th, seven full classes of first graders did just that—they constructed and decorated their very own stand and hand-squeezed the lemons for all the lemonade…. Their stand was a major success. A $543.61 kind of major success. But the really incredible bit is that the Sinclair first graders decided they not only wanted to be producers, but philanthropists. Whether they used that word is up for debate, but the end result was the same. They donated all of their profit to The Life Church's Manassas Food Pantry so they could help their community.
Today Pastor David and Jo Ann Baird, Barbara Trunko, and Janine Olkowski were welcomed by the Sinclair first graders to a special presentation, where they received the "lemonade gift" on behalf of The Life Church's Manassas campus. As a special thanks, The Life Church in turn presented each of the seven first grade teachers with a Making Life Better award to be hung in their classroom.
And this is why Jesus tells us to be like children. They're unabashedly generous, even when they have little to give. They're full of passion and excitement for accomplishing even the smallest goals. They look at the world around them with a wide-eyed wonder, making even a lemonade stand something that can change people's lives.
A special thanks to The Life Church's Sinclair Small Group leader, Barbara Trunko, for coordinating this special presentation and for her work with Sinclair faculty and staff.  If you're interested in being a part of the Sinclair Small Group to help with future tutoring, hospitality & social events, contact Barbara Trunko for details at barbara@kitchentech.net.